Je Ne Sais Plus [What Is This Feeling], 2012
Nine-projector installation and performance, found 16mm film reshot & looped, audio from vinyl records.
Meditation and exercise on the body as material and the tension between institutional use and personal sovereignty.
Excerpt of performance, 45sec., "...poems about secret feelings."
"Je Ne Sais Plus [What Is This Feeling]" 16mm film performance/installation: 9, 16mm film projectors 2012
Mechanoreceptors 1-3
Digital animation replicating installation projections created using digital optical printing of film loops.
Mechanoreceptors 1-3
16mm Film Installation, three 10-second film loops, 2012
Within the clinic identity transforms into material and optical diagnostic machines become this new corporeal body's voice. Sections of each of the film's frames have been operated on by cutting out and transplanting them into other film's frames using a laser cutter and splicing tape
Threadbare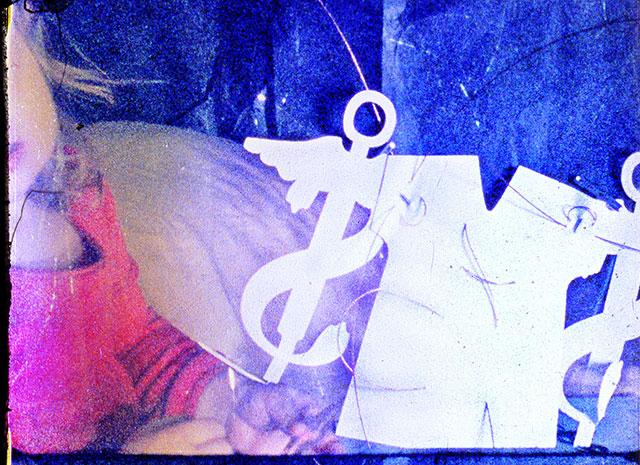 Two-minute excerpt
Threadbare
16mm film, color, sound, 05:15, 2013.
A fever-dream processes childhood memories of medical exploitation. The clinical gaze holds tight to the profitable conjuring made possible by vulnerable bodies. You can also view a two-minute excerpt at vimeo.com/88910222 or the complete film at vimeo.com/77967075.
CPS Closings & Delays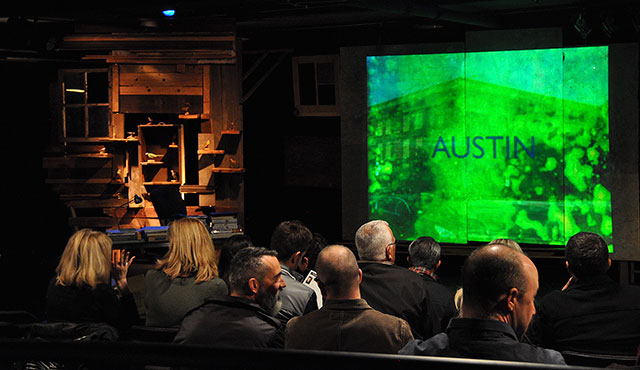 CPS Closings and Delays, 02:38 continuous looping, Pre-show film installation, Steppenwolf Garage Theater, Chicago 2014. The Chicago Board of Education made history on May 22, 2013 by approving a plan to close 49 elementary schools and one high school. This 100' roll of film documented the state of those schools on July 28 - 30, 2014. I edited the film by distressing it with bleach and then labeled it with the name of the corresponding neighborhoods. View an excerpt at vimeo.com/113206060 or the complete film at vimeo.com/110500185.
Songs About Me

Songs About Me
Interactive installation, found media and machines, 2011
Both the clinical and genetic matrix of my personal development holds mysteries that my work continues to unpack. The audience can listen to records of their choice.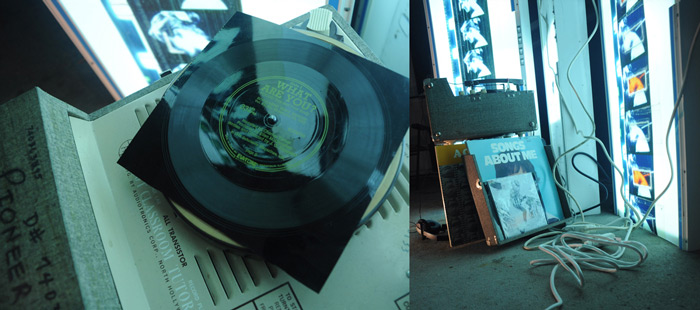 Songs About Me detail