Je Ne Sais Plus [What Is This Feeling] 2012
An obstacle course between the heart and the doctor's office leads to [DESTINY.] Playing her tower of projectors to the timing of a prerecorded soundtrack that pivots around international versions of "You Don't Own Me," Kristin Reeves meditates on the materiality of the body and the struggle to achieve personal sovereignty within its bounds. Built on 27, 10-second 16mm film loops constructed from reshot found footage and direct laser-animation techniques.
Excerpt of performance, 45sec., "...poems about secret feelings."

Split screen of a 9min. performance with its cinematic results, Top Secret Space, Gainesville, FL, 2012
Performance:
Nine 16mm projectors are arranged in a grid each projecting a 10-second film loop. I attempt to change all nine projector loops multiple times in synch with the sound score. The task becomes one of endurance, precision, and improvisation.


Installation listening station at the University Gallery, University of Florida, 2012
Installation:
Interactive installation, five international record singles of You Don't Own Me are available to the audience who start and stop the nine-projector grid. The 10-second looped image is both predictable and random.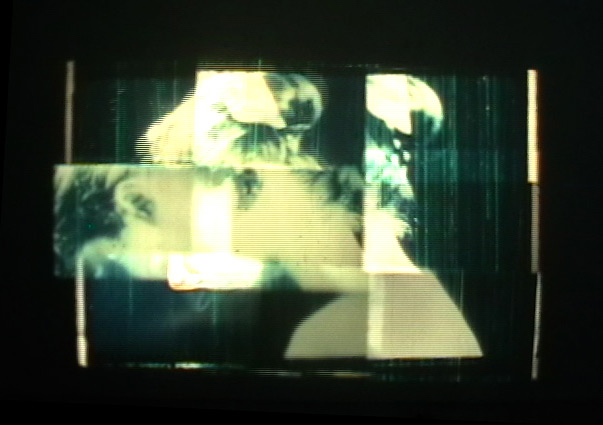 Installation detail of nine-projector 10-second looping composition

1min. video documentation of nine 16mm film loop as installation with the soundtrack composed from the musical interludes within the five international versions of You Don't Own Me. The full versions are available to the gallery audience.
Documentation of installation and performances held at the University of Florida's MFA Thesis Exhibition II, 2012